About Us
Deep Footprints is a digital marketing agency based in the UK but also operating internationally in Japan.
We are a team that have strong beliefs in the work that we are doing and how we approach it. We like to work with passionate, ambitious and focused organisations that are keen to get things done. We enjoy working quickly and have a clear focus on helping our clients to achieve and exceed their goals. Internally we are ambitious and take our work personally.
We always approach our work from the perspective of the client, therefore when we begin working with our clients we take time to fully research their businesses to get a rounded understanding of their place within their market.
The principles we work to
Truth and honesty – we believe that honesty is necessary at all times and on both sides of a client relationship. We will tell you the truth even when it is not in our interests. For example if you can get something done cheaper and more effectively elsewhere then we will tell you.
Openness – we believe that for our relationship with you to be successful we need to understand the detail of your business and in return we need to be completely open with you about what we are doing and allow you access to as much of the detail of our work as you like. We also believe that for you to be successful online you need to be open with your customers.
Achieving Goals – our purpose is to get you results for the money that you spend with us, if you do not get results then you will leave and we will fail as a company. Therefore our end goals are inextricably linked; we just need to agree clear objectives from the outset.
People in the business
Founder/CEO – Joel Chudleigh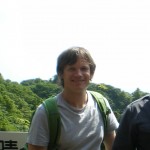 Joel has worked in marketing since 2003 and digital marketing since 2004. He is passionate about the ability of the internet to connect like minded people to help them achieve their goals in life – both business and personal. When not working Joel likes to spend time sumo wrestling with his 6 year old son, getting outdoors for snowboarding, surfing, hiking and cycling and also watching films, listening to music and reading.
Favourite tune – Living in a Bottle by Gil Scott Heron
Favourite book – tie between "On the Road" by Jack Kerouac and "To kill a Mockingbird" by Harper Lee
Favourite films – Shawshank Redemption, The Big Lebowski and Withnail and I
If that doesn't tell you everything you need to know about him then check out his Linkedin profile.
Company Details
Deep Footprints Online Marketing Ltd 11c Kings Parade Cambridge CB2 1SJ United Kingdom   Tel: +44 (0)20 3239 3811  | contact@deepfootprints.co.uk   UK Registered Company Number: 7347601